Catholic Nuns Gun for Paul Ryan - The Daily Beast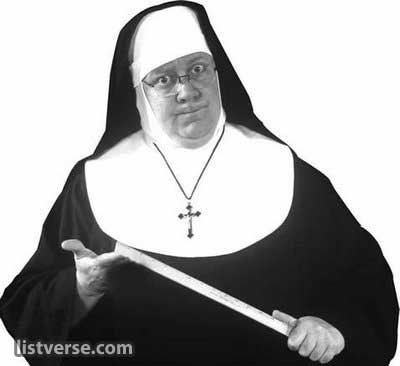 LP: They are his worst nightmare.
Sister Simone says she met with Ryan personally in July, after her bus tour. "We agreed that we would say we had a cordial conversation," she says of the half-hour meeting. "We agreed to disagree. Actually, we both agreed that we care passionately about the future of this country. So we did find some common ground."
"I don't see what Ryan brings to the ticket. He thinks seniors are getting too big of a free ride."
She says her bus tour, which covered nine states in two weeks, fired her up. "The more we were on the road, the more impassioned we became," she says. "We saw all these low-income communities, all the people who would be affected. By the end, we were fairly nuts about it."

She describes visiting unique social programs aided by federal funds, such as a housing project near Pittsburgh that also helps people craft résumés. In Detroit, she says, an adult literacy program made an interesting discovery: one-on-one training doesn't work as well as when one teacher instructs three students. "People are more committed that way," she says. "If one person doesn't show up, they call each other." In Toledo, a center focuses on kids who get suspended from school, going home to meet their families. It was discovered that a pair of 10-year-old twins, always in trouble for fighting, were living with a single mother, bedridden with multiple sclerosis. Now she is getting help.


"Ryan thinks churches can pick up the tab," Sister Simone says. "That's ridiculous. The magnitude of the need is so great."


Ryan, who is a Catholic himself, argues that his budget plan is in line
with church teachings
. He says the poor should not be kept poor and overly dependent on the government. He says some people take advantage of welfare programs, ultimately hurting those most in need, and that the budget deficit has ballooned out of control, so spending needs to be curtailed and refocused.
Sister Simone says it's not the social programs that are keeping people poor, but rather the economy. "The problem is not enough jobs and low wages," she says, adding: "Catholic teaching is based on solidarity. Ryan doesn't understand that all decisions need to be made with the common good in mind."


Sister Simone Campbell speaks to a crowd of supporters after stopping at Paul Ryan's office in Wisconsin.
Asked if she anticipated that Ryan would be Romney's pick for vice president, she says: "Heavens, no. He's not from a state that's an important swing state. I don't see what he brings to the ticket. He thinks seniors are getting too big of a free ride. I don't understand it."