A Letter from Rick Santorum « Borowitz Report
That's why, on my first day as President, I will repeal ObamaCare. Well, actually, on my very first day I'm going to repeal the Renaissance. And also the theory of evolution. But I will definitely get rid of ObamaCare by Day Three, Four at the latest.
You see, ObamaCare runs counter to my well-documented position on personal freedom: I believe in the rights of the unborn child, until it's born and wants a checkup.
What will take the place of ObamaCare? As your President, I will institute SantorumCare™, a healthcare plan that will cover absolutely no medical procedures whatsoever except one: exorcism.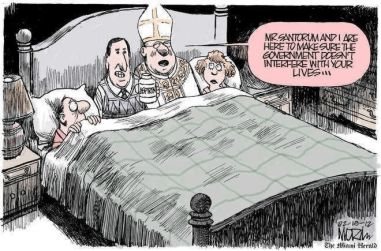 LP - I particularly like the leaching section of the health care plan as we tried to get our humors in balance.